Saint Petersburg State University
Санкт-Петербургский государственный университет
(Where curiosity becomes wisdom)

Где любопыxтство становится мудростью
First off we want to thank you for this opportunity to collaborate with the great State University of Saint Petersburg on this very exciting proposal.
We are proud to say that we've come up with a design proposal that respects and preserves the beautiful historic architecture of your buildings whilst adding something new to modernise them in a way that fits a university of your stature.
Our goal for this project
"Using the latest

 innovations in technology to create a unique concept in education

"
For this project we set ourselves the goal to bring light into the university in a new and innovative way, pushing the boundaries of technology, modernising your buildings whilst keeping true to it's heritage and historic architectural features.
Our solution is at the cutting edge of innovation, and will make your university a leader in innovative use of technology and light to enhance both the university and the students learning experience. A unique 'passive' learning improvement method in education and the world!
For this project we are working together with the best experts in the field of LED technology, manufacturing, psychology and light therapy. Amongst which is
 Toine Schoutens, light therapy expert, affiliated to the Academic Medical Center in Amsterdam, the Light & Health Research Foundation SOLG in Eindhoven,
 and advisor to the Dutch Olympic Committee and various other professional sport teams and top athletes to enhance their performance using light.
"Light is the most important source for life on earth"
Light is the most important source for life on earth. It gives us energy and is an essential source for our health and wellbeing. We need light to see, and light to work in, but more so to keep our body healthy and mind sharp to be able to perform at the highest level.
The use of light in homes, offices and schools is mostly used in 2 ways: functional & decorative. But with the innovation in LED lighting, there is a new way for using light that we've applied in this project: Human Centric Lighting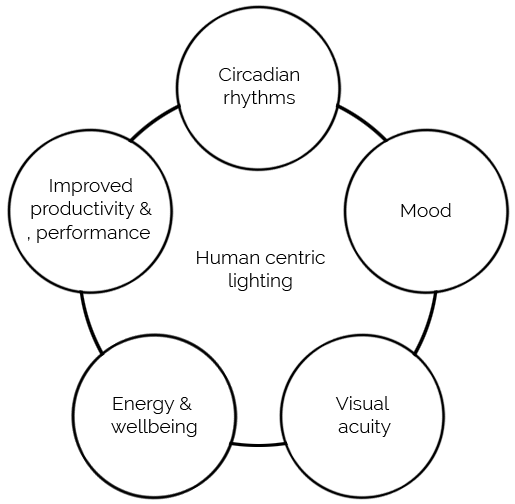 Human Centric lighting is all about improving circadian rhythms, mood, visual acuity, performance, energy and wellbeing.
(Circadian rhythms are physical, mental and behavioural changes that follow a roughly 24-hour cycle, responding primarily to light and darkness in an persons environment.)
(Visual acuity is a measure of your central vision, the clarity of your vision, and the ability to distinguish details and shapes of objects. Improving the sensitivity of the nervous elements, and the interpretative faculty of the brain.)
Students are like athletes, required to perform at their best level as possible, and in the best circumstances to excel. Good lighting is essential and has the potential to facilitate a maximum learning environment for the students.
This is especially important for cities in high latitudes, like St. Petersburg, where the sun hardly comes into view in the winter. Studies have shown that the morale and energy of the people is affected. Whole cities slow down, people's concentration and work capacity reduce, and people suffer from fatigue, complaining that they are always tired.

Recent research has examined lighting variables of color temperature, and illumination for affecting sleep, mood, focus, motivation, concentration, work and school performance.
This has resulted in new artificial light systems intended to support people performance through dynamic lighting technology allowing for different lighting conditions per task.
In a research study a total of 84 third graders were exposed to either focus or normal lighting. Using focus lighting led to a higher percentage in oral reading fluency performance (36%) than when using control lighting (17%).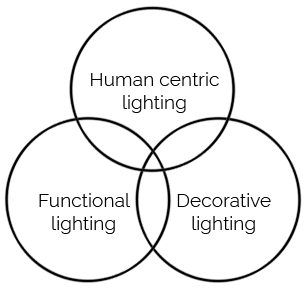 In this proposal we applied this new innovation of human centric lighting, that is both functional and beautiful to look at.
This will make your university a leader in the field of using light to enhance the learning environment which
 improves the level of performance, concentration, activity and wellbeing of your students.
For the main university building we propose 3 designs on 3 locations:
A light sculpture on the wall of the main staircase together with a Dotted lamp.

A 'Human Centric Lighting' lighted classroom
It is Studio Dennis Parren's belief that with covering these 3 locations we are able to demonstrate to you how we can innovate, enhance and modernise your building whilst at the same time inspiring, amazing and improving the performance of your student with new concepts and uses of light.
For the main staircase we wanted to do something special, something that tells students and visitors something about your university and our work.
For this special place in the school, a place that everyone walks through, we placed a quote that says: 'Where curiosity becomes wisdom'
With the quote we want to emphasize that a university is a place where your natural curiosity and drive to learn leads to wisdom. Same goes for our sculpture, when you are curious about how it works, you will learn, explore, discover and search knowledge to understand it.
For this design we again use a special material, that changes color when our programmed LED's light shines on it. It's an amazing thing to look at.
This video demonstrates the light effect of the sculpture.
As you can see we use a special developed optical foil that can change color when using our LED lamps. When our lights are off, the foil is grey, when the lights are on they transform from black to white and from color to color.
Using this concept we can make it seem that the wall sculpture is constantly changing its appearance. Your visitors and students will be amazed and curious about how it works. And by using different programs, we can constantly change its pattern, adding to the mystery of the sculpture.
For the assembly hall we designed an elegant and delicate sculpture that will mesmerise students and visitors. A showstopper that will make people wonder and think about what they are seeing. To see it is pure magic!
For this sculpture we use the same special LED lights and materials as in the staircase, enabling us to make the sculpture change its appearance and color.
We chose for this design to create a nice balans between modern and classic. The space needs something that is symmetrical, simple and elegant, as a contrast to the historic architecture. This needs to be in such a way that it's not too pompous or too present in the room.
This design create a beautiful relationship with the building in form and by light, creating a modern feel to the space without altering the construction or impacting its historic value.
The assembly hall sculpture connects our other designs to the heart of the building, where it has both a functional, decorative and human centric lighting function.
It is designed in such a way that it can be set to different intensities or completely off. When on it's a magical spectacle of light and color. When off it will simply contribute to the lighting in the room, making it a pleasant place to be in, the centrepiece of the university!
For the classrooms we've designed a special lighting system that is completely focussed on Human Centric Lighting and will help to improve the performance and wellbeing of the students.
We feel that it is a must to execute this design as it is such an innovative approach to lighting your classrooms. And will grab the attention of people, media and universities from around the world.
The design consists of a special LED system that projects indirect light at a high light intensity on the ceiling. During they day the light intensity and color warmt will change to create the best environment for students to perform.
Each classroom fitted with this system will be connected to a central system that regulates the light programming during the year, based on the seasons, when the sun goes up and when it goes down, and corresponding to the daylight intensity outside.
From each classroom there will also be the option to use an interactive control panel to regulate the light based on the activity or need. It will come programmed with multiple light programs developed by psychologists and light therapists.
As explained before the high light intensity at the correct color warmth will help improve the students circadian rhythms, their mood, visual acuity, performance, energy and wellbeing. This effect is the same as experiencing a bright sunny summer day that makes you feel good and happy.
The system that we designed with the help of our experts is an easy to install, low cost, energy saving and simple solution to apply into multiple classrooms. Placing it in more than one classroom is needed as the students performance will be optimal when exposed to this type of light over a longer period of time in more than just one classroom.
Why do this project with Studio Dennis Parren?
We've been recognised around the world for our designs and innovative approach to light, design and technology. Together with our network of partners, amongst which are the best experts in the field of technology, manufacturing and installation, we feel that we can provide you with an amazing opportunity to bring modern technology and design into your university that fits an educational institution like yours.
We would like to continue to work with the university to realize this project together, and to bring this new learning improvement method in education to the Saint Petersburg State University!
About Studio Dennis Parren
Our Studio
Studio Dennis Parren is a multidisciplinary design studio that focuses on using natural and artificial light as a design material. With a team of designers and a network of experts we create our work.
Studio Dennis Parren is based in Eindhoven, The Netherlands. Known as the city of light, Eindhoven is also the home of Philips, ASML, NXP and the High Tech Campus.
The region surrounding Eindhoven is being considered to be one of the smartest regions in the world, and named 'hands-down the most inventive city in the world' by Forbes and makes it a great place for us to work from.
About Dennis
The studio is lead by Dennis Parren. Dennis is driven by his intuition and curiosity.
Characteristic for his method of working is extensive research and experimentation to push the boundaries of his designs.
Being able to control the outcome of what you see and experience is essential to Dennis his work.
Dennis graduated from the Design Academy Eindhoven, The Netherlands, In 2011 and has Bachelor of Arts from the De Montfort University (DMU) in the United Kingdom.
Our design vision
At Studio Dennis Parren we design from the idea that light = everything. We use light as a material to progress and innovate the way in which people experience, think about, and look at light. We use the mystery of colour and light to create new concepts for light to innovate, educate, inspire and amaze.
Awards
Studio Dennis Parren was shortlisted for the prestigious Dutch Design Awards, awarded a D3 award, and received the BEOPEN Yelena Baturina prize, reflecting the BEOPEN founder's belief in the business potential of the selected candidate.
Clients
Our work has been published and on display in galleries & museums around the world. Amongst our clients are educational institutions, private collectors, galleries, museums, consumers and large corporations.
Recent work – Musée de la Mine in St. Etienne, France
Several light installations and sculptures to show how light can be controlled and educate people the working of light, colours, shadows and reflections. (Read more…)
Work in progress – School – Carmel College Salland
We designed this sculpture for a high school in The Netherlands (12-18) year olds). The assignment was to inspire the students with a sculpture that could make them marvel and wonder about how it works throughout their school career.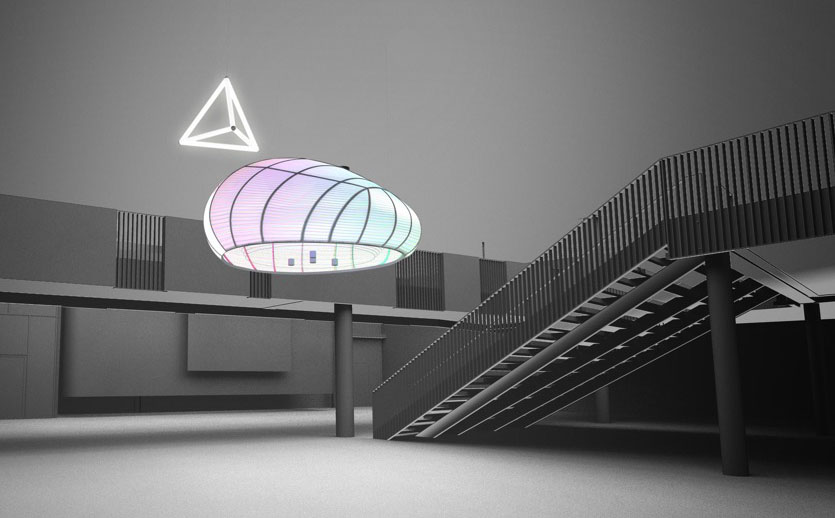 We created this floating dream-like sculpture that when looking at it from a distance or standing right beneath it, you will have no idea how it works and were those colours are coming from.
For the students this will be something that will amaze and inspire them. How it works is a secret to those who just look, and it will reveal itself to those who go out and seek knowledge to learn more about it.
This comes from the concept that curiosity leads to learning, and that a school needs to inspire students to look beyond the books and learn out of their own motivation.
"By having a different look at things, you will spark your imagination to go on a journey to explore, experience and discover new things. That is what enables you to be innovative, change the world and with that your own future."
Copyright
All presented designs, ideas, concepts, and content such as text, images, video & artwork including but not limited to the structure, selection, coordination, expression, and arrangement, is owned by Studio Dennis Parren. No part of the contents may be copied, reproduced, transmitted or distributed in any way nor may they be presented to other parties to be considered for reproduction without Studio Dennis Parren prior written consent.